Everyone loves Slack, but is it ideal for cultivating an online community?
Forum communities, on the other hand, are great in theory but difficult in practice.
If you have your own online community it's likely that you have struggled with community engagement at some point or other in time. You may even still be trying to figure out the magic recipe for a healthy engaged community.
As a community manager, it can be daunting having the weight of increasing your community's engagement metrics on your shoulders—or in other words, fixing what seems to be a sinking ship of a community.
At least that's how I felt when the engagement in our community for digital project managers was diminishing and I was tasked with turning things around.
If you're a community manager struggling to get your audience to engage, whether on Slack, a forum, or social media platforms, keep reading to discover:
Let's start with a little back story.
I've been working as a community manager at Black + White Zebra, an indie media publishing company that specializes in content and training for online professional development communities.
We've successfully launched and grown a community for digital project managers over at TheDPM.com and we're on the cusp of launching several other online membership communities in other niches.
But starting our first community, and creating engagement in that community wasn't all smooth sailing.
Here's what happened.
Why We Turned Off Slack
When we first launched the DPM membership, we didn't know anything about online communities. Over the last year and a half we have taken a learn-as-you-go approach and have succeeded (and failed many times) through trial and error.
Our membership community for digital project managers, which I'll refer to as DPM membership, is the community that I'll be focusing on in this article.
The DPM membership began as a free Slack channel and evolved into a paid membership subscription with monthly live webinars, mastermind groups, downloadable templates, and ebooks.
Since its inception in 2017, our digital project management Slack community grew to nearly 4,000 members and shared more than 65,000 messages.
Slack is a great community engagement tool but most of the knowledge and information disappears as the conversation moves on. Our community members had been contributing asynchronously, and not really using the platform as the real-time communication tool it was designed to be.
As I'm sure many community managers know, discussions on Slack can get interwoven when there are multiple conversations happening at the same time, making it difficult to follow. It also limits the number of topics that can be discussed at any given time.
Slack is an excellent social network platform when it comes to instant messages and rapid-fire conversations, but it's expensive for large communities and not ideal for long-lived conversations that can be helpful to reference in the future.
As we analyzed how community members were using Slack, we noticed that the same questions and conversations were regularly being repeated since previous conversations were not accessible (partly because we didn't want to pay the $8/per user, per month for the standard Slack plan).
In short, we realized that a forum was much better suited to everyone's needs.
Why We Switched To Circle
As the DPM Membership started to grow, we noticed a problem. Our Slack channel had thousands of community members, most of whom were not subscribed to DPM Membership.
Not only that, but our membership retention rate was at rock bottom. We were losing members left, right, and center. We couldn't seem to keep them in Membership beyond a few months. Whatever we were doing (or weren't doing) wasn't working and the sustainability of DPM Membership was looking pretty bleak.
We were left asking ourselves some pretty big questions…
How can we provide more value to our community members so that they won't cancel their membership within a few months of joining?
How can we improve the way in which we communicate with our community members and them with us?
How can we make our membership more "sticky" in order to increase retention and subsequently the length of our membership's lifecycle?
We explored a few different community platforms including Mighty Networks, Podia, Tribe and Kajabi. But after much deliberation and technical testing, we decided to launch a forum using Circle that would be exclusive to DPM Members.
Circle was new to the community platform game, but they were focused on the forum component that we wanted to get right, and many of other community platforms conflated community with courses and downloads which we didn't want to do.
We believed that a dedicated forum would be a huge source of value to the community for reasons such as:
it would allow community members to engage easily in asynchronous conversations (unlike the fast-paced chat style of Slack)
it would create a searchable database of content (no more scrolling through old messages to find answers)
it would promote richer, more thoughtfully crafted discussions
Long story short, we launched the forum and...crickets...It didn't take off the way we had hoped.
What Went Wrong
Prior to launching the DPM Forum we had done outreach to our most active Slack channel members. We offered free membership to some and heavily discounted lifetime subscription rates to others. But, it didn't work as we'd hoped.
We had a conversion rate of 41% for our most active 100 members and less than 2% for our entire Slack channel. In other words, only about 70 people from our Slack audience of almost 4000 people signed up for membership. And of those, not everyone registered for the forum.
The forum didn't have many members in it, and as a result, it was filled with posts from our team, with very little user engagement from members.
As you can imagine, these metrics were highly discouraging to our team.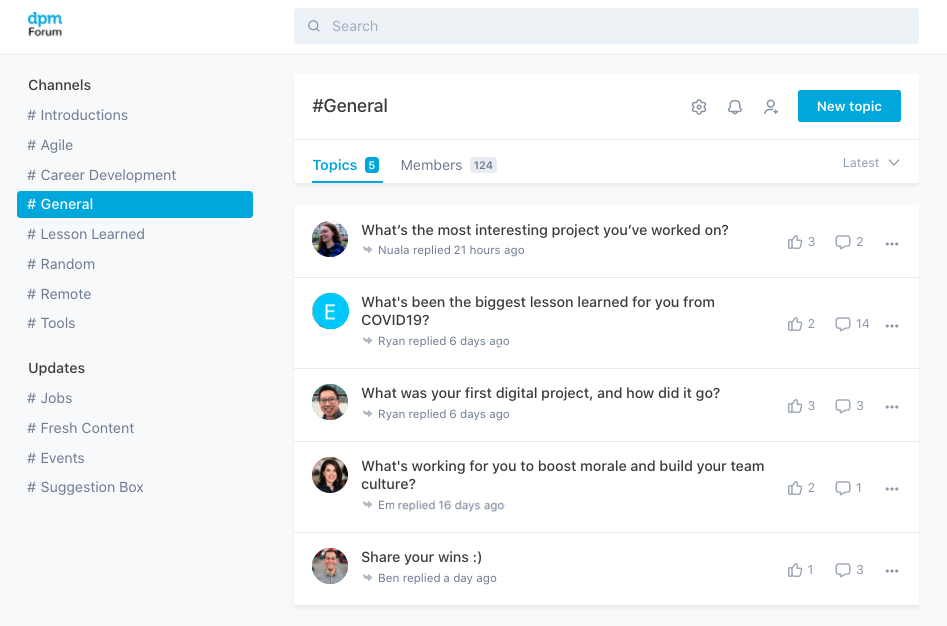 Some community members were resistant to join due to the fact that Slack was an app already used daily during their workday and didn't require logging onto another social network platform.
The reason I'm sharing this is because this story has a happy ending. And I believe that by sharing our process, you too can benefit from the lessons of community engagement strategies that we learned the hard way through trial and error.
How We Increased Community Engagement By 400%
So...how DID we increase our community participation by 400% in 6 months?
First, let me clarify how I've calculated our increase in community engagement.
Our Slack community's engagement rate was just under 10% (roughly 385 active members out of almost 4000 members). Whereas now our community forum has just under 400 members and a community engagement rate of almost 50%. So, although our community size decreased significantly, our community engagement is more socially dense because of the members to active members ratio.
Let's take a look at the 10 steps we took in order to increase the online community engagement on our newly launched forum.
While some of the actions had a visibly higher impact than others, I believe that it was a combination of these changes that really made the needle move on our community engagement metrics.
So, without further ado...
10 Tactics For Increasing Community Engagement
1. We Deleted Our Slack Channel
This is actually one of the last things we did, but I've listed it first because I believe it had the highest impact.
And it was incredibly tough to do.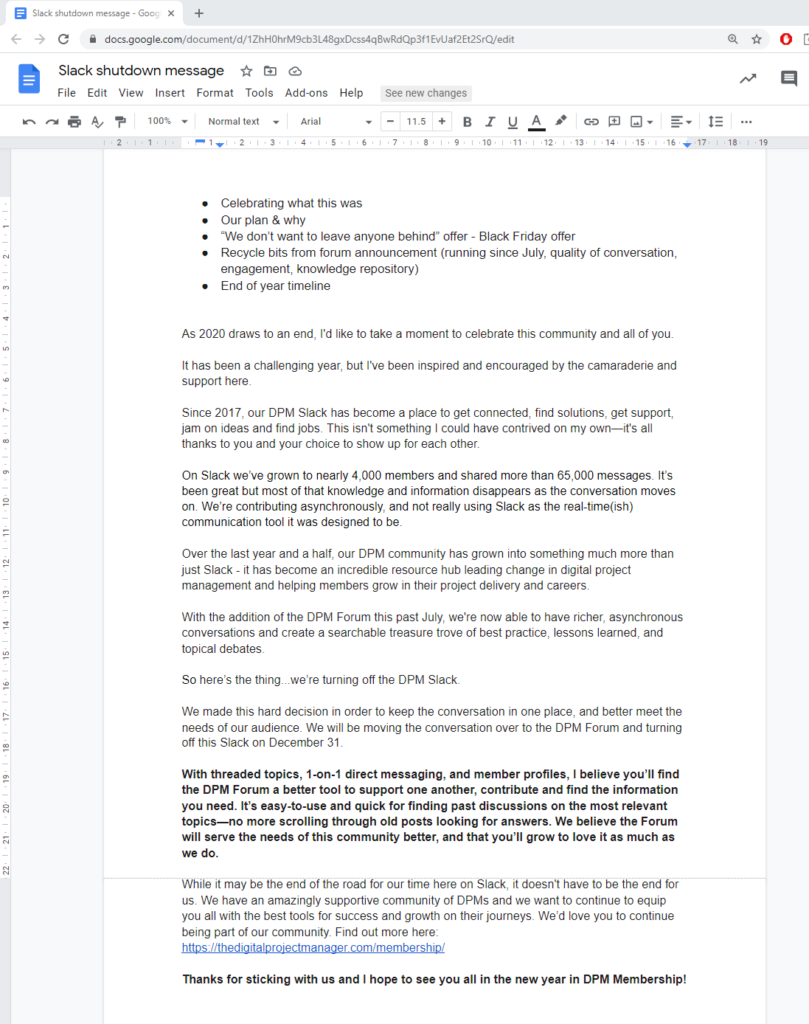 Our Slack team was more than 3 years old, and it had 4,000+ members.
But having both a Slack team and a forum was confusing to community members and causing communication to be fractured and sparse. By deleting our Slack channel we consolidated communication onto one platform, making it easy for members to know where to go when they need help.
Something that had kept us hanging onto our Slack channel for longer than necessary was the fact that we would lose our Slack 'members' at the time of deletion, most of whom were not paying DPM Members. In the end, this didn't matter. To put it bluntly, most of these people were no longer considered "hot leads" and were likely to never convert to our paid subscription.
We decided to focus on a smaller slice of the pie, in order to increase the value of our DPM Membership subscription. And it paid off.
It wasn't long after shutting down our Slack channel that members who had originally been resistant to the idea finally made the switch and started engaging on the forum. We also noticed several people sign up for DPM membership as a result of the Slack shut down.
2. We Invested A Lot Of Time Engaging With Community Members
Before launching the forum we hired an industry expert, Galen Low, to act as the community facilitator of DPM.
Over the last 6 months, Galen has put a great deal of time and effort into engaging with our community members in the forum. He started by creating a forum content cadence and shared it with members so they would know what type of content to expect from him and when it would be published.
He also began encouraging certain community members to respond to discussions when the topic was relevant to them, so as to increase engagement but also reduce the amount of responses that came from our team. We knew at the beginning of the forum's inception that our team would need to do a lot of the posting and commenting to get things going.
However, if that stage were to last too long, new members would quickly get the sense that the community was vacant and dormant. We needed to get the forum populated with posts from Members.
3. We Grew Our Team Of DPM Experts
We already had a team of people we considered our Experts or community leaders; however, Galen not only expanded this team through extensive outreach efforts (both on Linkedin and through existing connections), but he also set clear expectations for what it meant to collaborate with The DPM as an Expert.
Our Experts are expected to collaborate with us in our community-building efforts by engaging with our community members for several hours a month. This means our Experts are in the forum writing posts and responding to discussion threads furthering The DPM's engagement activities and community-building strategies.
4. We Removed Monthly Membership As A Subscription Option
Earlier I mentioned that we had an extremely low retention rate. People were coming to our site looking for a unicorn SaaS tool or a "quick fix" template and would sign up for a $15 per month membership, and then churn after several months. Our monthly subscription wasn't attracting the type of community members we wanted.
Our ideal community member was someone who wanted to improve their skills and knowledge on an ongoing basis through training and engaging with others in their industry. Not someone looking to quickly patch a problem.
Our annual members pay a yearly upfront payment of $150. This is a bigger investment, and requires more consideration of the benefits and required effort of membership before committing.
By canceling our monthly membership option, we are starting to see an increase in members who are looking to dig into our resources, get connected, and engage with the community.
5. We Kept Forum Channels To A Minimum & Explained The Purpose Of Each Channel
We didn't want our community members to feel overwhelmed or confused about where they should post, so we kept our forum channels to: Introductions, General, Career Development, Lessons Learned, Jobs Board, and a Bulletin Board channel where we shared about our upcoming events.
The General channel is where most threads get posted. All other channels have a very specific purpose. And, we make sure members know exactly how to use them by posting explanations of each channel.
6. We Began Actively Welcoming New Members
Every time a new member joins the forum, they receive a warm welcome message from me soon after arriving.
The purpose of this message is to make members feel noticed, welcomed, and included. I often get appreciative responses, and, of the people I reach out to, about 20% respond and post an introduction.
7. We Began To Diligently Respond To Introductions
To continue promoting feelings of being noticed, welcomed, and included, we make sure to respond to member introductions with a like or a comment soon after the post has been posted.
Our goal with this is to facilitate positive feelings that encourage community members to continue engaging.
8. We Updated Our Onboarding Messaging
In order to get community members to engage in the forum, we began to ask them to perform the very behavior we wanted them to participate in.
Our onboarding sequence now includes a series of emails asking community members to do certain engagement activities, such as posting a lesson they've learned the hard way, responding to a specific post, and introducing themselves.
Upon signing up for DPM Membership, we want community members to create the habit of engaging in the forum as soon as possible. And, why hope that community members will do something when you can just ask them to do it instead?
9. We Implemented Gamification
After doing some reading on community engagement tactics and gamification, we decided to start awarding our super users with a badge each month that is visible beside their name every time they post.
The idea behind this was to encourage our most active community members to continue to post regularly.
By rewarding community members for being active, it encourages them to continue to actively engage because of the positive feelings associated with being recognized for standing out from their peers. In other words, we use positive emotions to influence our members' decision-making processes. Also, community members will want to show off their status, and thus continue to post regularly.
10. We Started Small & Didn't Give Up
Building community engagement is tough; it takes a lot of time, effort and experimentation.
At the beginning, engagement happens person by person, it's painfully slow. It's hard to reconcile the effort with the results. But patience pays off.
Over time community engagement begins to snowball as the community begins engaging with one another and takes on a life and conversation of its own.
It didn't happen in one week. It took 6 months of consistent effort.
During that time, we found some engagement tactics worked, and others didn't. When you use tactics someone else recommends and they don't work, you begin to lose momentum and enthusiasm, the important thing is to be tenacious and never give up!
Conclusion
So there you have it. Those are the 10 steps we took to increase our community engagement.
Community engagement is what differentiates an audience from an online or local community. Without engagement among community members, there is no community. This is why it is so important to implement online community engagement strategies in order to promote community development.
We are still actively working on increasing our community participation, but we've come a long way since we began this journey, so it's worth sharing (and celebrating). Our hope is that by sharing the steps that worked for us, we'll help others who are also trying to find answers to the conundrum that is online community engagement.
When it comes to metrics, how do you measure successful community engagement? Let us know in the comments what community engagement strategies have worked for you in your own online community!
Indie Media Club is launching its very own membership! Sign up to our waitlist so that you can join our community of successful media entrepreneurs for tactical advice from world-leading experts.
Or, go ahead and listen to these podcasts:
Related List of Tools: 10 Best Website Content Optimization Tools To Outrank The Competition [2023]