We all know good content is important. But good isn't enough. If you want to outrank the competition in Google, your content has got to be better than everyone else's content.
But what is good content? And how do you make it better?
A good starting point is reviewing what Google thinks - you can read Google's requirements in terms of quality, readability, and consistency. They've made it very clear that content optimized for quality is what's going to win for both the reader and you, in getting your content to rank above the competition.
So what is quality? This is where content optimization tools can help us. They can help us understand what high-quality means in the context of the topic we're writing about. They're real-time content marketing tools to help us create SEO optimized content that (hopefully) Google likes, and helps us outrank the competition.
In this post, we're going to cover off some of my favorite tools for optimizing content and improving rank-ability and click thru-ability to improve our organic traffic without link building. If search engine optimization and growing organic search isn't part of your marketing strategy yet, it should be!
But before we get going in discussing what tools we can use for content optimization as well as target keyword research, it's worth thinking what content optimization is exactly.
What is content optimization?
Content optimization is improving the quality of your content so it ranks higher in order that it generates more organic traffic.
There are a few different ways to think about optimizing content to make it high-quality. While there are hundreds of ranking factors, there are easy ways to optimize content in terms of:
Tool Shortlist
Indie Media Club is reader-supported. When you click through links on our site, we may earn a commission. Learn more.
Best Content Optimization Tools Comparison
Here are my overviews for the best content optimization software on the market today. In this section, I'll outline pricing details, highlight what each tool does, and explain any drawbacks.
1. Clearscope - Best for quick keyword research and content optimization
Price: From $170/month
Trial: None. Demo only.
Clearscope is not the cheapest pick of the content optimization tools, but it's certainly one of the simplest to use and one that I'd always recommend. The interface is clean and it's easy to learn, making it a great option for beginners.
It includes a simple (but powerful) keyword planner tool which allows you to find related keywords, their volume and difficulty (similar to Ahrefs) but also helpfully shows you how that keyword is trending.
It provides metrics for your writing in terms of readability and content grade which makes the process of optimizing the content very simple.
I like that you can create a brief and then easily share that brief with another writer. I also like their integrations - they have one for Google Docs as well as a WordPress Plugin so you can optimize where you publish to streamline your drafting and optimization of content.
2. Clickflow - Best for click-thru content optimization
Price: From $109/month
Trial: 7 day trial costs $1.
Clickflow isn't just a content optimization tool - it's more than that. It's a suite of tools to optimize a website rather than just a pure-play content optimization tool.
Their new title tag and meta description tester is a great tool in this suite, which allows you to A/B test the impact of writing new titles and meta descriptions. I also like their content decay tool - which helps you prioritize which content you should focus on upgrading first - it identifies content that used to rank, that you should optimize to get it ranking again.
But back to their content optimizer, as that's why you're here. It is super simple to use, and works well. However, when I tested it against some of the other tools, the results weren't as convincing. At this price point though, for smaller sites, it's a great option.
3. SEO Scout - Best for content optimization testing & tracking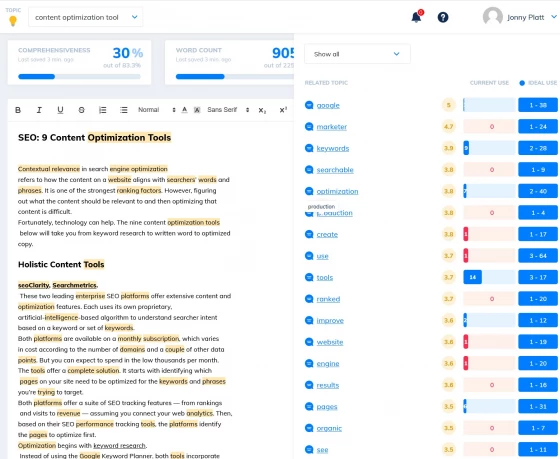 Price: From $49/month
Trial: 7 day free trial.
I'm comparing these products purely on content optimization but if you're a content marketer or in digital marketing and want to take your content optimization to the next level, with integrated content strategy, and keyword planning then I'd recommend SEO Scout.
SEO Scout is a full suite of tools that include SEO split testing, a keyword tool, topic research tool, content optimization tool, question keywords, keyword groups, rank tracking, keyword opportunities, SEO performance reporting, and an internal link analysis tool.

It allows you to integrate your Google Search Console data and Google Analytics to build a comprehensive understanding of your content and using all the tools listed above, shows you how you can improve it and then allows you to track the performance of those changes.
4. Topic - Best for title and description ideas
Be sure to check out this offer from Topic as it's an insane offer!
Use the coupon code BZamWORs to get 50% off your Topic subscription

For readers of Indie Media Club
Price: From $99/month
Trial: None.
I know that sometimes when I'm sitting down to write, even when I know the words and topics I'm meant to write about, it can be hard to get started.
So if you ever get writer's block too, then Topic might be a good choice for you. It uses artificial intelligence to help create highly optimized article outlines that get you writing content faster, and rank better in search.
Topic uses AI to help with content research, build article outlines, and tells you what questions you should answer in your post. They've also got an (expensive) add-on, which is $99/month called Topic Copilot which is similar to the autocomplete in Gmail, except it'll help you write an entire article as you go!
5. Dashword - Best for creating content briefs
Price: $39/month (1 page optimized free)
Trial: None. Demo only.
Everyone always likes free tools, and I'm no different. However, only your first report is free with Dashworld. That means you can try it out before subscribing (or fudge new accounts with bogus email addresses, but you didn't hear that from me).
Dashworld can create content briefs for you, which is a time consuming process otherwise. They can scan the web and, based on your target audience and competitors, provide topic ideas as well as a rough outline. This is invaluable for someone trying to expand their niche to tangentially related areas.
Dashworld also has a content optimizer that flags common keywords in similar content and recommends how many times you should use them to avoid "keyword stuffing." They will also give you a readability grade based on sentence length, word choice, and word count.
6. MarketMuse - Best for enterprise content optimization
Price: From $149/month (Freemium version)
Trial: 7 day free trial
MarketMuse is an AI-powered tool that can do everything from content optimization to basic content creation. Their Premium plan unlocks managed content briefs, final drafts, and strategy services. This is crucial for enterprise-grade content teams who need content creation support.
For example, if you are trying to rank for a new tangential keyword, you might need to write 10-20 support posts to boost your authority in that area. MarketMuse's team can do this for you, providing you with basic drafts that you can then tweak to add your own voice.
MarketMuse also has handy tools for keyword optimization and research, content brief building, and competitor analysis. It can be a lot to learn but it's well worth it for all that they provide. They have a free plan you can try for 1 user, up to 15 queries, and 10 projects.
7. Surfer - Best for finding and implementing quick wins for your content
Price: From $49/month
Trial: 7 day trial for $1.
Surfer is an AI-powered content creation and optimization tool that can even generate original text like titles, headings, and subheadings for you to use. They can even generate paragraphs of text based on your niche and keywords, which you can then edit to make it sound more you. This can save you hundreds of hours of planning and writing content.
Surfer can also generate guidelines for your content pages based on its analysis of top performing sites in your area of expertise. They can even give you hints about what article structures or image types are attracting the most organic clicks.
Surfer's site audit tool can quickly flag topic gaps or formatting errors to give your content the best chance to thrive on SERP. They integrate natively with other content tools like Jarvis.ai, Google Docs, WordPress, Google Chrome, and have an API for additional connection opportunities.
8. Frase - Best for AI-generated blog content
Price: From $44.99/month
Trial: None.
Frase is a content optimization tool currently used by over 30,000+ content teams and marketers, including high performance digital companies like Digitas, Coursera, Talkspace, and Career Karma.
Frase's AI-powered content creation and optimization tool is super easy to use, highly rated in this area by its customers. It can scan top ranking content and suggest brief outlines on topics of your choice.
Their "Write For Me" tool can even generate the body paragraphs of your content using their built-in keyword optimization systems. They can quickly and easily generate headlines, FAQ sections, blog intros, and more.
9. Text Optimizer - Best free content optimization software
Price: From $60/month (Free version available)
Trial: 7-day free trial
With Text Optimizer, you can plug in your website URL right on their homepage to get an immediate sample of what they do. They'll give you an immediate score (out of 100%) for that page and will provide (for free!) a series of keywords that they believe are missing from your text.
Text Optimizer's free tool works for any page of content (so long as your site doesn't block them crawling you) and you can use it as many times as you want. They are a free SEO tool perfect for those just getting started or a bonus tool to add to your existing tech stack, since it's cost-free.
Their paid plan adds tools for text optimization, reader FAQ search and analysis reports, Excel file exports, and a Chrome extension to make writing and optimizing much faster and convenient. Currently, their paid plan offered 3 months free on a yearly subscription.
10. SimilarContent - Best for repurposing existing content
Price: From $9.90/month (Freemium plan available)
Trial: 14-day free trial
SimilarContent is a free-to-affordable SEO optimization platform with topic modeling, an SEO content editor, a rank predictor tool, a readability checker tool, a backlinks difficulty checker, a content rewriter, and more. Their Content Rewriter turns old text into dozens of brand new, rewritten articles, greatly extending the value of everything you write.
SimilarContent's keywords effectiveness indicator (KEI) will find the best keywords for your brand and provide you with a list of words to use plus estimates for how many times each word should appear. They can also analyze what questions your ideal audience is asking online so that you can create content to answer them.
SimilarContent's free plan is a great place to start. With it, you'll get 1 active project, 2 KEIs per day, 1 post to optimize, 2 generated topic ideas, 2 researched questions, 2 analyzed headlines, and up to 500 words fed through their "Content Rewriter" (which turns preexisting paragraphs into new content you can use).
Other Content Optimization Tools
The list above is our pick of the best content optimization tools, but there are more. If none of the tools above were right for you, be sure to check out some of these other tools below.
CTR optimization tools
SerpClix - Low-cost DIY SEO tool that lets you buy targetted website traffic (no bots!) to boost organic search results.
SerpEmpire - For-purchase geotargeted organic traffic to boost your organic traffic from the SERP.
General Writing Tools
In this section, let's review some of the tools that you can use to optimize your written content to ensure high readability, proper style, and lack of embarrassing grammar and spelling mistakes.
What is website content optimization?
At its most basic, website content optimization is the process of including specific topics and related keywords into your content to make it rank better in the search engine results page (SERP). The right content paired with the right keywords will create a piece of content that speaks directly to the search intent of potential readers using Google to find information online.
This is about creating quality content through keyword optimization (not keyword stuffing) around relevant topics. You discover and include related topics into your content to make your content increasingly relevant and comprehensive, which in turn should help to make it better quality and rank higher in the SERP.
How do content optimization tools work?
They all work slightly differently, but basically, website content optimizers help you improve your topic coverage so that you can write an article about a topic more comprehensively. They use latent semantic indexing (LSI) to find words and long-tail keywords that frequently occur together around a particular topic. They will often employ machine learning (ML) and natural language processing in order to igest large amount of content from around the web and make actionable suggestions to boost your content score.
They're not synonyms, but words and topics that are often written about together. You provide a keyword that you want to write about, and the content optimization software tells you what sections, topics and keywords you should include in your article, to give it a chance of ranking.
What do you think?
I hope you found the perfect keyword research tool to add to your content marketing strategy. Content writers nowadays need to be hyper-aware of reader search terms, relevant keywords, and SEO content optimization in order to create better content with the highest possible conversions.
What content optimization tools have you tried and tested? What's your favorite, and why? Let me know what you think is the best content optimization tool in the comments below.
Related List of Tools: